Cold weather can be tough on skin and hair, especially here in the Sierra foothills with its dry air, elevation, and cold overnight temperatures. If you've made it a resolution to take better care of your skin and hair, Adagio For Hair has the answers! Not only can we help keep your hair nourished, manageable, and silk-soft, but we also have amazing skincare treatments and professional hair care products, and skincare products from G.M. Collin that make us your one-stop-shop salon for all your beauty needs!
Here are some tips for surviving dry skin and brittle hair in the cold months so that you don't suffer from damaged hair and cracking scaly skin.
Skin Tips
Wear sunscreen daily. Even if it's overcast, UV rays can begin premature aging to your skin. With repeated exposure, your skin can begin to show damage with skin pigmentation, fine lines, wrinkles, and even skin cancer. Daily sunscreen can help protect your skin.
Exfoliate regularly. When dead skin cells, dirt, and debris builds on your face, it can lead to clogged pores and acne breakouts. Exfoliating your skin at least once a week will help your skin shed that layer of dry, dead skin and reveal a fresh layer of new skin. When you regularly exfoliate, your serums and moisturizers will better absorb into your skin for healthier skin.

Meet your skin. Many of us aren't sure of our skin types since it can change by the season, by age, and more often than not, we're oily in some places and dry in others. Our estheticians at Adagio For Hair will give you a skin assessment when you come in for one of our spa facials.
Use skincare products for your skin type and needs. Once you know what your skin type is, and know what concerns you want to address, it's important to invest in the proper skincare products that are right for you. At Adagio For Hair, we offer G.M. Collin superior skin care products for all your skincare needs. They offer a complete line of products, from preventative care, combating the first signs of aging, adding nourishment to dehydrated skin, and more. It's recognized for its expertise and innovative ingredients so ask your Adagio esthetician about it!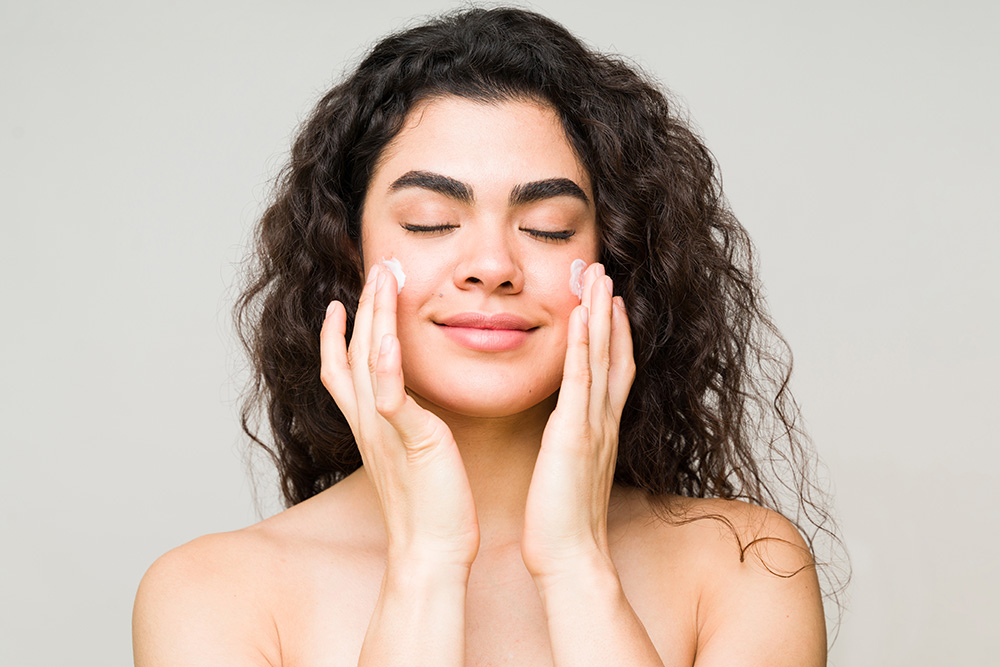 Treat your skin to a spa facial. Once you know the type of skin you have, our expert estheticians will customize our spa facials to ensure it takes care of your concerns and leaves your skin cleansed, nourished, and rejuvenated. Choose from hydrating, plumping, illuminating, or anti-aging to help keep your skin firm, younger-looking, and moisturized.
Invest in new brushes. Evaluate your current makeup brushes that you use daily. If they're looking a bit worn, it could affect your skin. To help keep your skin healthy, invest in a new set of brushes for both your makeup and daily skincare routine.
Sleep is essential. Did you know that getting adequate sleep is good for your skin? Sleep works as a natural moisturizer since as you sleep, your body naturally repairs and restores itself. Not only will a good night's sleep help you get through the day, but it'll also help you achieve smoother skin as well.
Eat healthy & hydrate. When your body lacks key nutrients and vitamins, it steals those nutrients from your skin and hair. Well-balanced meals, healthy snacks, and plenty of water will keep your body, hair, and skin hydrated and full of the nutrients it needs for shiny, supple hair and soft, younger-looking skin.



Continue waxing in winter. Waxing not only removes unwanted hair, but it also exfoliates your skin, boosts your blood circulation, and keeps your skin smooth and young-looking. When you disrupt your waxing routine, you lose the benefit to your skin.
Hair Tips
Sun protection for hair. If you're in the sun for long hours on a regular basis, try our Kerastase Soleil Sun Protection Hair Set that protects, nourishes, and shields your hair from the negative effects of the sun.
Deep condition weekly. Ask your Adagio For Hair stylist which Kerastase Hair Mask is good for your needs. The Masque Magistral Hair Mask is for dry hair and works to deeply nourish hair while forming a protective layer to prevent moisture loss and boost shine.
Use the right hair products. While you may have your favorite shampoo & conditioner, make sure it's right for the season. While you may need a light, clarifying shampoo in the summer months, your hair may need a more moisturizing shampoo and conditioner in the cold, dry months. Let your Adagio for Hair stylist recommend the best products for your hair type, texture, and color protection if needed.
Visit your stylist often. Practicing a good haircare routine is important for the health of your hair. Regular trims will keep split ends to a minimum and stop breakage before it causes damage, it allows you to keep your hair color vibrant and fresh, and at each visit, your stylist can discuss any concerns you may have with the health of your hair. If needed, you can also pamper your hair with a Deep Conditioning Luxury Treatment to help strengthen and moisturize your hair.
Let your hair flow naturally. Sometimes it's important to give your hair a break from heating tools, styling products, and tight ponytails. At least once a week, let your hair flow freely, air-dried if possible, with minimal to no hair products. Constant brushing, pulling your hair back into a tight ponytail, or pulling at it when wet can cause breakage and can even begin to thin the hair. If you must blow dry your hair, use Kerastase Ciment Thermique Blow Dry Primer to nourish the hair fiber, create smooth hair, and protect your hair from excessive heat to minimize hair breakage.
Make an appointment at Adagio For Hair today and our master hairstylists will help to repair damage to your hair while our estheticians will leave your skin smooth, soft to the touch, and younger-looking. You can find us at 4356 Town Center Blvd, Suite #114, El Dorado Hills, CA, call us at (916) 939-6604 to schedule your hair color appointment, or book online with our convenient scheduling tool. You can earn points and redeem them for valuable rewards in our exclusive Adagio For Hair loyalty program! Join now to start earning your exciting rewards.