Congratulations! You've set the date to marry the love of your life, and now it's time to start planning the coming nuptials. This will be one of the most important days of your life, and you want everything to be absolutely perfect, right down to every strand on everyone's head. You probably already have an idea of what you want for yourself, but what about the rest of your bridal party? That's a lot of pressure for any bride, so we've put together a few of the favorite wedding hairstyles of the season to help in your planning and take off some of the pressure.
Updos
French Braid Halo- A braided halo or crown is a great look for a wedding. It's a look that is both sweet and romantic. Make it a bit more dramatic by switching from a French to a Dutch braid. Dress it up by weaving in a strand of pearls or a thin garland of flowers or greenery.
Rope Braid- If you want something sleek and simple, a rope braid is a perfect look. It adds gorgeous detail to a high ponytail yet remains understated. Choose a style like this as the bride if you want your dress to be the center of attention. This also makes a great style for the bridesmaids to make the bride's hairstyle really stand out in the crowd.
Topknot Bun- Want an eye-catching style that really shows off an off-the-shoulder dress? This is the style for you. A neat bun on top of the head wrapped at the base with a few mini braids is just the style to bare those shoulders and command all eyes on you.
Let It Down
Mermaid Waves- The universal appeal of these beachy waves make them perfect for just about any wedding theme. It's a casual yet elegant look that is just as fitting in a cathedral as it is on the beach. Accessories can customize this style to fit your theme.
Hollywood Waves- These retro waves are simply timeless. This is a great style to compliment a sleek and simple dress and can work for everyone from the bride to the bride's mother. A side part and barrette give it an even more glamorous feel.
Barrel Curls and Flower Crown- This is a polished free-flowing style that's not too stuffy. Smooth barrel curls provide the perfect base for a fun and romantic flower crown. Not into flowers? Opt for a greenery wreath instead, like perhaps olive leaves. (Think Greek goddess.) Or simply add a simple tiara for the bride or sparkly headbands for the bridesmaids.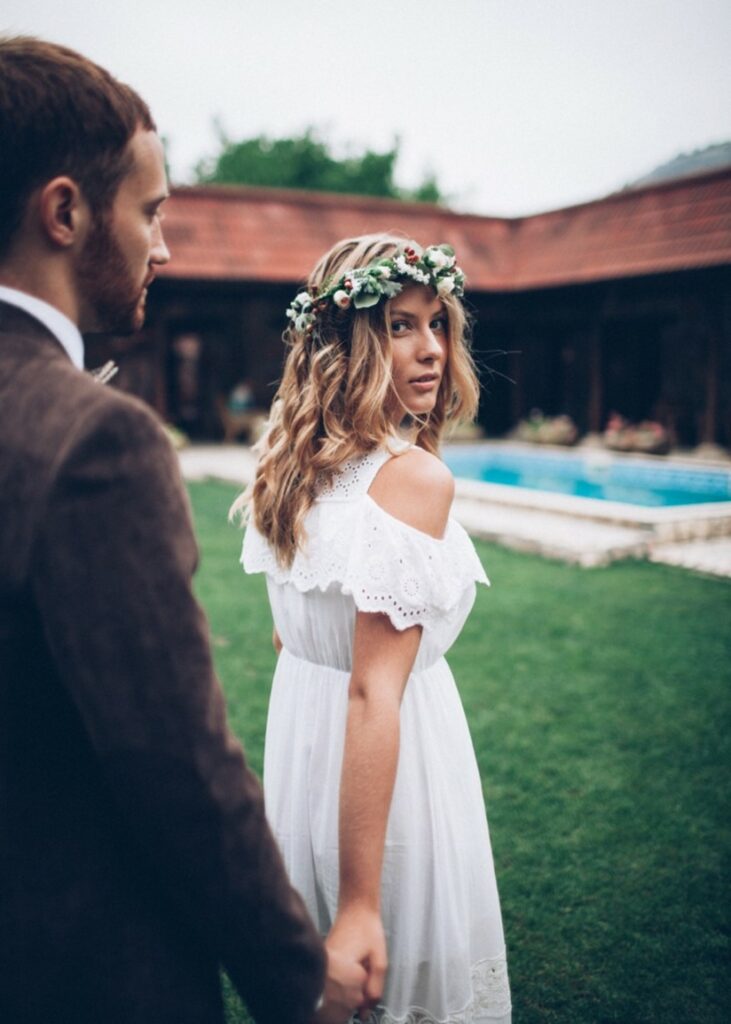 Half Up

Half Up Braid- For those that don't want to wear their hair up and yet not fully down, this is a perfect style. A loose Dutch braid from the temple on each side to the back of the head keeps your hair away from your face while adding detail and interest to the style. The rest of the hair can be worn down in voluminous curls. This style is suitable for anyone from the bride to the flower girl.
Waterfall Flowers- A waterfall braid interwoven with sprigs of small flowers is the perfect compliment to loose flowing curls. This is a perfect style for chin length and longer hair. There is something so sweet and innocent about this style that makes it perfect for a wedding
Half Up Braided Bun- A simple braided bun twisted up at the crown with only half the hair is gorgeous and paired with pretty spiral curls. Wrap the base of the bun with a strand of pearls to make it really stand out, or weave the strand into one of the braids before forming the bun.
When finalizing your hair plans, schedule a consultation and bridal hair trial about 3-4 weeks before the wedding. This will allow plenty of time to practice and tweak your style to get it just right before your big day. Your stylist will also be able to help you choose stunning hairstyles for the rest of the bridal party to ensure everything is perfect and goes off without a hitch. It will feel so good to check hairstyles off in your wedding planner!

The talented stylists at Adagio For Hair would be honored to serve you and your entire bridal party on your special day. We will create the wedding hairstyle of your dreams and ensure that everyone from the mother of the bride to the flower girl looks their absolute best as they stand beside you while you take your vows. Call us at (916) 939-6604 to schedule a bridal hair consultation, or book online with our convenient scheduling tool. You'll find us at 4356 Town Center Blvd, Suite #114, El Dorado Hills, CA. You can earn points and redeem them for valuable rewards in our exclusive Adagio For Hair loyalty program! Join now to start earning your exciting rewards.