In the summer heat, it's more important than ever to keep up with your skincare routine, including regular professional facials from Adagio For Hair. But is there more you can do to keep your skin healthy between these incredible salon skin treatments? During the summer months, sunscreen is one of your most important skincare tools.
Why do we need sunscreen protection?
Being out in the sun feels wonderful, and it should. A little bit of natural sunlight is good for your body because it helps you create your own vitamin D, an important nutrient for good health.
The problem is that the powerful rays of the sun can be damaging when you have too much exposure, and it doesn't take that long to start seeing problems. Most people can be out in the sun for several minutes, but on some days when the UV rate is high, your skin can burn in as little as 15 minutes.
Sunscreen is designed to block those harmful rays so that you can be out in the sun without damaging your skin.
What are UV sun rays and how do they damage skin?
Most people have seen a rainbow during a light rain. Sunlight is always made up of different types of light, but we usually see all those rays blended together. When separate, as in a rainbow, we can see that each light spectrum has different colors. Ultraviolet light, or UV light, is light we can't see on the color spectrum.
Sun rays are actually radiation, and while some types are harmless, others can damage your skin. UV light is divided even further into UVA and UVB light, and these rays are what sunscreen is designed to block.
Your skin has three layers: the epidermis or outer layer, the dermis, or middle layer, and the hypodermis beneath them both. UVB light penetrates into the epidermis, but UVA can penetrate radiation even deeper, into the dermis. Both of these types of sun rays can affect your skin's cellular structure, which can cause premature aging that leads to fine lines and wrinkles. That's why it's so important to protect your skin with a professional sunscreen product recommended by your Adagio For Hair esthetician!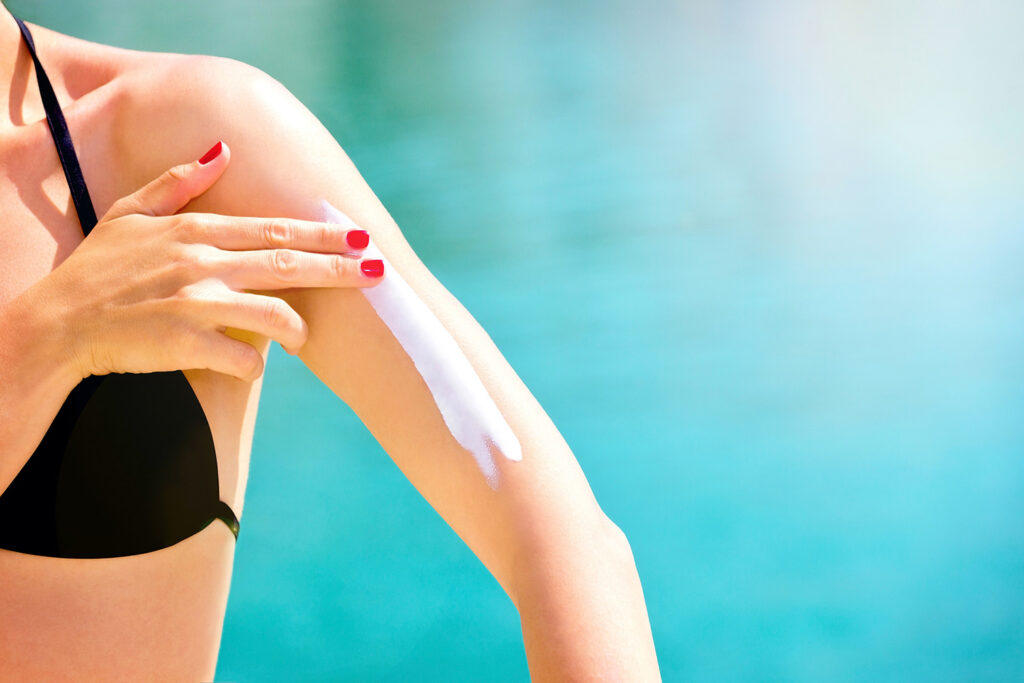 What do all the numbers on sunscreen products mean?
Every sunscreen product shows a number – SPF, or sun protection factor. That number tells you how much longer you can stay in the sun than you would if you didn't wear any sunscreen, and it also tells you how much UV light is blocked.
However, it's important to remember that even if the product's SPF says you can stay out in the sun, you usually have to reapply it to keep that protection going, especially after swimming or sweating.
Always use a high-quality professional sunblock product like G.M. Collin® High-Protection Veil, GM Collin® SPF 25 UVA – UVB Urban Protection Veil, or G.M. Collin® CC Cream, which provide high SPF factors and protect against both UVA and UVB rays for the best skin protection. They're also lightweight, ocean-friendly, and reef-safe, so you can feel good about protecting your skin. It's also chemical-free to avoid skin irritation and allergic reactions.
Ask your professional Adagio For Hair esthetician to recommend the best professional sunscreen for your skin's needs.
How do I use sunscreen with makeup?
Some people are worried about using sunscreen with makeup, especially for a special occasions. Some drugstore brand sunscreens can in fact feel greasy, but professional products like those from G.M. Collin® apply smoothly and don't have that greasy feel. That means you can use it confidently under your makeup every day so that you don't need to worry about the sun affecting your skin.
How long do sunscreens last in the pool on at the beach? Do I need to reapply?
If you're out sweating in the sun, or if you've been swimming in the pool or ocean water, it's important to reapply sunscreen at least every 2 hours. Even if you haven't been swimming or doing strenuous activities like sports that make you sweat, the 2-hour rule is important to follow to keep your skin healthy.

Keep your skin safe and healthy with quality sunscreen from a professional salon brand. And don't forget to set your monthly appointments with your Adagio For Hair esthetician for expert professional facials and other skincare treatments to keep your skin healthy all summer long. Make your appointment today – you'll find us at 4356 Town Center Blvd, Suite #114, El Dorado Hills, CA, call us at (916) 939-6604 to schedule your skin care appointment, or book online with our convenient scheduling tool. You can earn points and redeem them for valuable rewards in our exclusive Adagio For Hair loyalty program! Join now to start earning your exciting rewards.