If you're ready for a new look this season, there are some things you should know before choosing a hair color that'll look amazing on you. While you may think it's as easy as just picking a color from the hair colorist's color chart, you might be disappointed in the final results if you don't take the time to find the right custom blend for you. 
If you've had your hair colored in the past, you may have noticed that even a subtle shift in the tone may have brightened your complexion and made your skin look healthier. On the flip side, have you even gotten your hair colored and noticed it was just blah, and you may have even noted that your features looked a bit more tired. That's because the wrong tone in your hair color can affect your overall look.
The first step is to identify your skin tone and the second step is to choose the correct hair color undertone that will bring out the best in your complexion. Our expert stylists at Adagio for Hair have put together some tips and tricks for learning your skin tone and what hair colors will look the most flattering on you.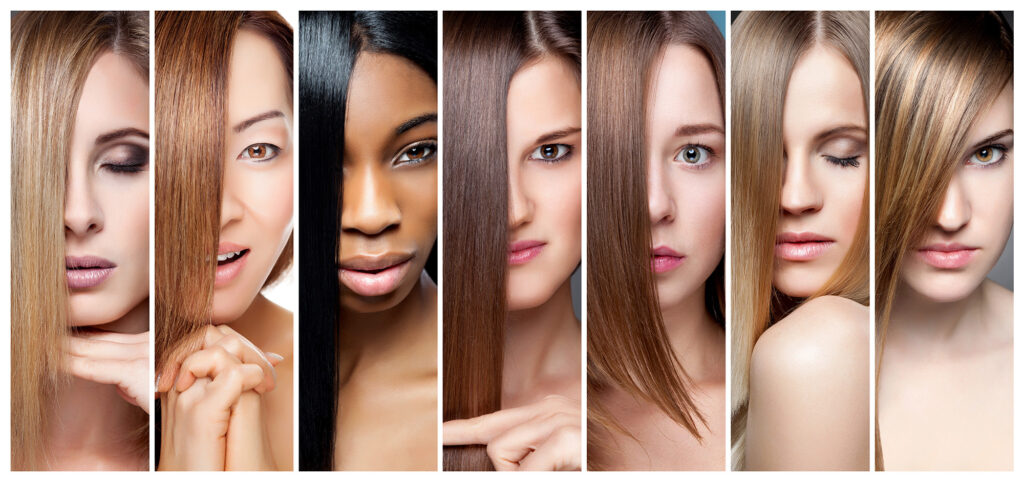 How to identify your skin tone. There are many ways to determine your skin tone. Here are a few:
How you tan – If your skin gets red after being in the sun a short period of time, or you're prone to sunburns, you have a cool undertone. However, if you tan easily, your skin undertone is either warm or neutral.

Compare your skin to something neutral – Put on a white t-shirt or get a bright white sheet of copy paper. Put it up to your face in a well-lit room and look in the mirror. If your face looks yellowish, warm tones are dominant. If your face looks rosy, you have more cool undertones. If it's neither yellowish nor rosy, you can assume your skin undertone is neutral.

Look at your veins – Another way is to look at the veins on the top of your hands. If you see blue or purple veins, it means that your skin tone is cool. More greenish-looking veins means that your skin tone has warm undertones. If you see both, your most likely neutral.

Put on some jewelry – Lastly, if you want to see if you're cool or warm toned, put on some jewelry. Do you look better in gold or silver? Cooler skin tones look more brilliant in silver jewelry and if you're warm toned, the gold jewelry will pop against your skin more. 
Finding your perfect hair color match. Now that you know if your skin tone is cool, warm, or neutral, you're ready to discover a hair color you love and that will highlight all your best features. As your Adagio colorist will tell you, the best rule of thumb to follow is find a hair color base you love – brunette, blonde, or red – and then pick a tone that complements skin undertones. Sticking to cools with cools and warms with warms are safe options, but in some cases, matching cool skin tone with warm hair color tones (and vice-versa) can really make a striking contrast!
Hair Color for Light Skin Tones
Cool skin undertones. If you're fair-skinned with cool undertones, you'll want your hair color to minimize any redness that's in your skin. Warm or golden hair color tones are flattering on light skin with cool undertones (those that show blue, pink, or red in your complexion undertones). Choosing hair colors like warm reds, neutral brunettes, and golden or honey blondes are all amazing choices. You can't go wrong with ashy, platinum, or icy hair colors to complement your fair skin tone, or go bold with cool shades of red or deep purple.
Warm skin undertones. If you have a light skin tone but exhibit warmer undertones (hints of orange and yellow), you'll want to look for more hair colors that give your skin a healthy glow. Stick to cool hues such as ashy tones, reddish tones such as strawberry blonde or honey, golden copper, and brunettes that are rich, deep browns or cool beige brown. Trending colors this season such as milk chocolate, caramel, and golden brown will complement the warm tones in your skin while emphasizing green and hazel eyes.
If you go for a cool ashy brown or dark blonde, you'll love the contrast against the warm skin tone but be sure to use color-protected haircare products to upkeep the shade and they can tend to fade quickly.
Neutral undertones. If you've got a neutral skin tone, you're in luck! You can choose both warm or cool hair colors and you'll look great with either! However, if you want to look youthful and radiant, opt for warmer shades. Lighter and warmer shades, such as golden highlights and caramel locks, tend to have an anti-aging effect.
Hair Color for Darker Skin Tones
Medium skin with warm undertones. To make your skin look brilliant and healthy, ask your Adagio for Hair colorist about honey brown with caramel highlights. It'll set off your tan and give you a natural glow. For warm golden skin, you'll love beautiful shades of copper and mahogany would bring out the vibrancy in your skin.
Medium skin with neutral undertones. Again, neutral skin tones are those that others are jealous of. They can pull off just about anything including vibrant fantasy colors of pink, green, blue – even rainbow!
Medium skin with cool undertones. Cool tones will enhance your complexion – from dirty blonde to rich mocha chocolate to deep black, you'll look amazing with any cool tone you choose. Often cool skin tones tend to have visible redness, that doesn't mean you have to stay away from red hair tones. Your Adagio colorist can give you options of cool red-browns that will emphasize your bluish-pink undertones.
Dark skin with warm undertones. With dark skin, you can enjoy a lot of flattering hair colors. If you want to enhance the warm undertone to your skin, choose rich, warm hues. Deeper roots with a golden balayage or ombre will flatter olive skin tones.
Dark Skin with neutral undertones. Cool and warm colors will give you a lot of creativity to choose from. You can experiment with ashy and gold colors for a brazen look or stay with the same level of depth as your natural hair for a polished, chic style.
Dark skin with cool undertones. Yes, darker skin can have noticeably cool tones as well. Cool dark brown and other cool choices that are close to your natural color work best to complement your skin tone.
At Adagio for Hair, we're serious about giving your hair every advantage so it can be at its best. That includes personalizing a Kerastase® Hair Treatment for your particular hair needs and recommending the best professional products for you to use at home. To make it easy, you can buy your recommended Kerastase® haircare products online and get them delivered right to your door!

Make an appointment at Adagio For Hair today and our master colorists will help to choose the perfect hair color for your skin tone. You will leave our salon with healthier, manageable hair. You can find us at 4356 Town Center Blvd, Suite #114, El Dorado Hills, CA, call us at (916) 939-6604 to schedule your hair color appointment or book online with our convenient scheduling tool. You can earn points and redeem them for valuable rewards in our exclusive Adagio For Hair loyalty program! Join now to start earning your exciting rewards.