Every time the seasons change, we start to hear from more clients who are looking to switch up their hair color. Heading into fall is the perfect time for a new color, especially with all the holiday events coming up just around the corner where you'll want to look your best. We've also seen increasing demand for our blended balayage colors, which give you a high dimension look that's perfect for both everyday looks and special occasion styles.
Along with all the requests for the new colors, we hear a lot of questions about the balayage technique. It's been trending for quite some time and with good reason – balayage makes your hair look incredible, especially our expert blended balayage colors. Here are some answers to your questions if you've been thinking about blended balayage but are not quite sure whether it's the style for you.
What is balayage? Is it a hair color style?
There's been a lot of confusion about this, but balayage is actually a technique, not a hair color style like ombre. The easiest way to describe what balayage is to call it a sort of freehand painting for your hair. The traditional technique for highlights uses foils. Each hair strand that is going to be colored is wrapped in foil, where it will absorb the color. When done, this gives you a chunky highlight look that's quite pretty, but it doesn't look natural.
Balayage uses the colorist's own artistic abilities to select strands to 'paint on' the hair color. The result is a more natural looking highlight that might look like it has been lightened in the sun. The random placement of highlights gives you a high dimension as the light is reflected while at the same time looking as though the lightening happened naturally.
What are the advantages of balayage highlights?
In addition to giving you a more natural looking hair color result, using the balayage technique has other advantages. One very helpful advantage is how the hair color grows out. Since balayage looks more natural when applied, it also looks more natural as it grows out. That means fewer touch-ups and less overall maintenance than you'd have with foil highlights, which will look more obvious as they grow out. Depending on your color and assuming that you follow all your Adagio For Hair colorist's recommendations for home hair color care, you can expect your balayage look to last about four months before you need a touch-up.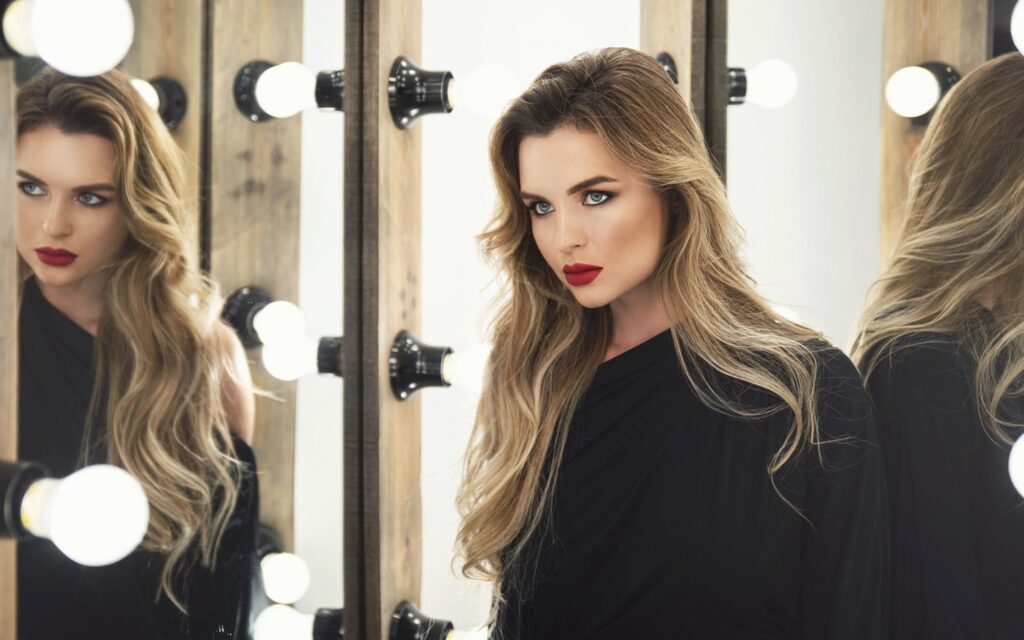 What is a blended balayage?
A blended balayage is an expert technique for balayage highlight colors. It gives you a beautiful look that contrasts darker undertones with the beautifully hand-painted light highlights on top for an incredibly high-dimensional look. It's all about the health of your hair in this technique, which combines hair coloring with pre-tone masks for extra softness along with a gloss treatment to be sure the lighter colors shine in the light. Blended balayage looks incredible with long, wavy hair, but can also be done for shorter mid-length styles. Blondes, brunettes, and redheads will all get a fantastic look with an expert blended balayage hair color technique. Blended balayage is a modern dimensional hair color technique that you'll find trending everywhere.

For a gorgeous high-dimensional hair color for fall, try a blended balayage look at Adagio For Hair. Make an appointment today and our expert colorists can give you a blended look with artistic balayage highlights that really set the tone for your autumn style. You can find us at 4356 Town Center Blvd, Suite #114, El Dorado Hills, CA, call us at (916) 939-6604 to schedule your hair color appointment, or book online with our convenient scheduling tool. You can earn points and redeem them for valuable rewards in our exclusive Adagio For Hair loyalty program! Join now to start earning your exciting rewards.