With summer just around the corner, it's definitely time to up your skincare game, and scheduling regular professional facial treatments is the first step for great-looking skin. Your facial skin is exposed to all the elements every day, so now is the perfect time to start repairing skin damage and get your skin ready for fun in the sun.
What are the benefits of professional spa facials?
When we think of relaxing in the Adagio For Hair salon for a facial, we usually think about how we're taking a much-needed break away from the day-to-day hustle and bustle to de-stress. And professional facials certainly do make that happen. But their benefits to your skin are simply undeniable.
Cleansing. Your regular skincare routine is important, but it can't get your skin as clean as a professional spa facial. That's because the expert estheticians at Adagio For Hair use customized products and specialized tools to perform a thorough cleansing of your skin.
Anti-Aging. Even if you're in your 20s, now is the time to start taking care of your skin to prevent premature lines and wrinkles later. That's because your skin slows down all the rejuvenating processes it had when you're younger, eventually leading to gaps in the skin where fine lines and wrinkles are formed. That slowdown starts in your 20s and continues as you age – but regular skincare through professional facial treatments can help. They help stimulate the production of collagen proteins, as well as new skin cells, that are so important for keeping skin looking smooth and firm.
Improved circulation. The massaging action of many of the steps in professional facial treatments feel great – but it's also helping stimulate your body's blood and lymphatic circulation, which are both important for healthy skin. Your blood delivers oxygen and nutrients for healthy skin cells, and your lymphatic system drains away harmful toxins.
Fewer breakouts. If you have trouble with acne, professional facial treatments may be exactly what your skin needs. Professional facials are tailored to your skin's individual needs, so your Adagio For Hair esthetician will consider your acne trouble when selecting the right nourishing serums and treatment products for your facial treatment. Regular treatment with the right products and techniques can help lessen the effects of acne and help keep breakouts to a minimum.
Exfoliating. Exfoliating removes the top layer of dead skin cells and dirt that your home skincare treatment can miss. A clean, smooth surface like this helps your makeup blend better and stimulates youth-enhancing skin rejuvenation for smoother, silkier skin.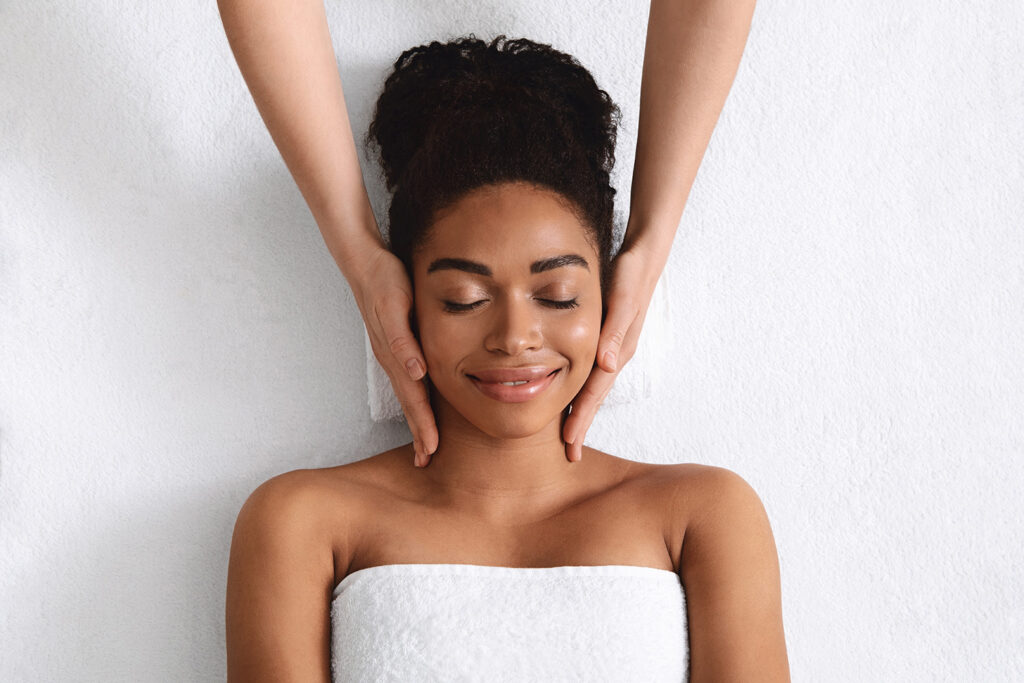 Which professional facial treatment is right for me?
At Adagio For Hair, we provide two levels of signature professional facial treatments to give your skin exactly what it needs.
Adagio Signature Facial. Our exceptional Signature Facial is fully customized to your skin's exact needs. Our 75-minute treatment provides a luxurious European experienced that includes deep cleansing, extraction, a custom mask, and an incredible facial massage to stimulate healthy circulation.
Adagio Signature Facial/Peel Express. Don't let your busy schedule prevent you from taking great care of your skin. Our Express treatment gives you maximum results for healthy skin in only 30 minutes, customized to treat your skin's individual needs.
Scheduling your monthly Adagio Signature Facials means that your skin will get the best possible care for the best look and feel!
Skincare at home is also important, so be sure to ask your expert Adagio For Hair esthetician to recommend the best professional products from G.M. Collin® to create your own personalized home skincare regimen. Always use salon-trusted, professional brands when choosing skincare products for your face. Professional products are formulated with only the finest ingredients to create the most effective formulas for your skin.
Ask your Adagio For Hair esthetician which formulas are right for your skin type and your skin's individual needs, then create a morning and evening routine that works for you. Each home skincare session should include cleansing, toning, and moisturizing, along with specialized treatments needed for your skin like exfoliating, advanced serums, and other nourishing skincare products.
Soft, smooth, beautiful skin is ready with regular professional facials from Adagio For Hair. Make your facial appointment today and let our expert estheticians help you choose the right schedule of professional skin care treatments for you. You can find us at 4356 Town Center Blvd, Suite #114, El Dorado Hills, CA, call us at (916) 939-6604 to schedule your professional facial treatment appointment or book online with our convenient scheduling tool. You can earn points and redeem them for valuable rewards in our exclusive Adagio For Hair loyalty program! Join now to start earning your exciting rewards.