If you've been noticing that your hair seems dry, dull, and the hair color is a little lackluster, it might be time to indulge in a professional salon hair treatment to rejuvenate and heal damaged hair. Dry winter air, over-processing, heat styling, and even environmental factors can all cause damage to our hair. Fortunately, Adagio For Hair offers both in-salon Kerastase® treatments as well as Kerastase® professional products to use at home in between appointments to keep your hair healthy, soft, and manageable.
Salon Kerastase® Treatments
Who are Kerastase® Treatments designed for? Just about everyone! Damaged hair is common due to perms, relaxers, heat styling, coloring, etc. Our professional Kerastase® treatments are used to help repair and restore the effects from all types of damage that your hair encounters while protecting your hair from future damage.
What does a Kerastase® Treatment do? An in-salon treatment offers immediate benefits to your hair to help it become more nourished with key nutrients, softer, and your hair color will be more vibrant. Kerastase® also can reconstruct your hair and make it denser after just one treatment. Your hair will appear thicker and fuller and will experience less breakage during styling with better overall manageability and texture.
How do you know which treatment to choose? When you have your Adagio For Hair stylist perform a Kerastase® Treatment in the salon, they will give your hair a full assessment to make sure they are recommending the right treatment for your hair texture and needs. Kerastase® offers customized hair masks that are specially formulated to meet the needs of each guest to ensure you get exactly what you need.
What can I expect during a treatment? Many of our Kerastase® treatments can be used as an add-on alongside any other hair service without excessively extending your appointment time. Whether it's a treatment mask or Kérastase's Fusio-Dose Treatment, your amazing results will last for up to 20 shampoos – an average of three months. It makes it easy to simply schedule another Kerastase® treatment at your next appointment!
Using Kerastase® at Home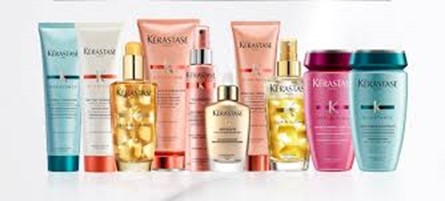 Before you leave our salon, your master stylist will recommend a Kerastase® regimen at home to extend the life of your salon treatment as well as the health of your hair. Each recommendation is based on your individual needs, whether it be to fight frizz, eliminate breakage, or add moisturizers and nourishment. Following your at-home haircare routine with the right Kerastase® shampoos, conditioners, and products is the best choice to get the most out of your treatment.
Why we believe exclusively in the Kerastase® brand.
Kerastase® is a revolutionary hair treatment that solves hair challenges those basic over-the-counter products cannot. It penetrates your hair for long-lasting results and allows your hair to reach its full potential.

It's backed by years of science and research that uses not one product, but several that can be combined in several ways for proven results.

Every Kerastase® product, whether it's for an in-salon hair treatment or home use, has been meticulously tested by expert stylists to ensure effective, consistent results.

Kerastase® not only cares about the health of your hair, but all their products are backed by a successful sustainability program that you can feel good about. 
At Adagio for Hair, we're serious about giving your hair every advantage so it can be at its best. That includes personalizing a Kerastase® Hair Treatment for your particular hair needs and recommending the best professional products for you to use at home. To make it easy, you can buy your recommended Kerastase® hair care products online and have them delivered right to your door!

Make an appointment at Adagio For Hair today and our master hairstylists will help to repair damage to your hair. You will leave our salon with healthier, manageable hair for the New Year. You can find us at 4356 Town Center Blvd, Suite #114, El Dorado Hills, CA, call us at (916) 939-6604 to schedule your hair color appointment or book online with our convenient scheduling tool. You can earn points and redeem them for valuable rewards in our exclusive Adagio For Hair loyalty program! Join now to start earning your exciting rewards.