It really is unfortunate that professional facials are all too often viewed as strictly a luxury service. Facials are an amazing skincare tool that should be viewed as necessary and routine as dental and medical checkups. After all, your skin is a part of your body too, and it requires regular care to keep it healthy. We see our dentist and doctor on a regular basis for preventative care to keep ourselves healthy, not just when we're sick and need treatment. Preventative care and maintenance save a lot of money in the long run by stopping problems before they start. Having your skin cleaned and cared for by a professionally trained esthetician works in the same way to ensure a healthy complexion.
A good home skincare routine goes a long way to maintaining the health of your skin, but it isn't always enough. You brush and floss every day, but you'll still end up with tartar buildup if you don't see your dental hygienist regularly. Your face is exposed to an unsettling amount of dirt, grime, and pollution on a daily basis, not to mention dead skin cell buildup. Without regular facials, this buildup goes unchecked which is a recipe for dull, dry, irritated skin that is prone to breakout, premature aging, and other skin problems.
Regular salon facials may in fact save you money in the long run. Your makeup will go on much more easily with a smooth clean surface to apply it to. You may even find that you need much less of it as time goes on. You will find that you need less of your skincare products as well because your skin can more easily absorb them making them more effective with a smaller amount. With fewer breakouts and skin problems you'll find yourself spending less on treatments as well.
Then there are the mental health benefits to consider. Self-care is vitally important. It gives you time to rest, relax, and renew your mind. Setting aside time to take care of yourself improves your self-image. Facials are also an excellent way to relax and relieve stress. They also boost confidence and self-esteem.
Here at Adagio for Hair, we offer six different clinical facials, so there is an option to meet anyone's needs. Our expert esthetician will conduct a thorough skin analysis to help determine which facial services are best for you. We use superior professional quality G.M. Collin dermo-corrective skincare products to provide targeted care for your individual needs. Let's take a look at the facial options available.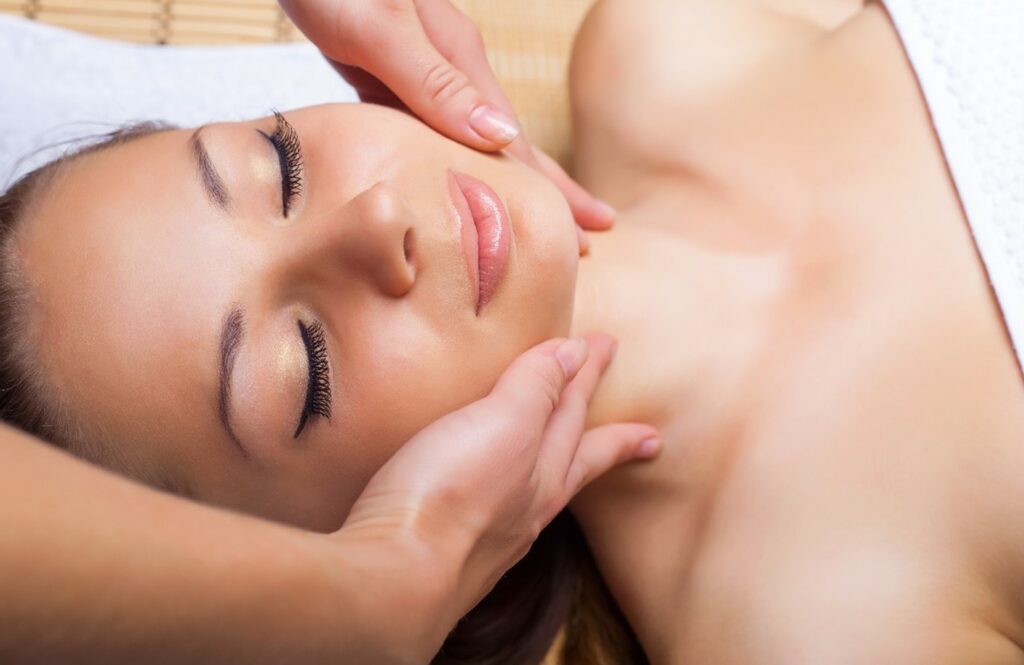 Adagio Signature Facial- This is an absolutely luxurious European facial experience that is tailored to your skin's unique needs. You'll get to relax for about 75 minutes while receiving professional deep cleansing, extractions, a skin-soothing and nourishing mask, and an amazingly relaxing facial massage. This option is perfect for anyone that wants to give their face some extra TLC for a clearer, brighter, and more youthful complexion.
Adagio Signature Facial/ Peel Express- This is a great option for someone with a busy schedule who simply can't carve out a larger chunk of time from their schedule. This fully customized service takes only 30 minutes to give you optimal results in minimal time.
Hydrating and Lifting- If your skin is dry and a bit droopy, this is the option for you. A 60-minute hydrating and lifting facial will infuse your skin with much-needed moisture as well as tighten up loose skin for an instantly more youthful look. This is a great way to get ready for any upcoming important events or special occasions.
Illuminating and Rejuvenating- UV damage takes its toll over time resulting in hyperpigmentation and age spots. This 60-minute age-defying treatment uses a combination of vitamin C, seaweed, and organic thermal mud to repair UV damage and infuse your skin with renewed energy and a more even skin tone for a brighter complexion.
Anti-Aging- If you're noticing expression lines on your forehead and around your eyes and mouth, this may be the facial treatment for you. This is a non-invasive alternative to Botox or Dysport injections. Our 75-minute anti-aging facial uses Botinol, an innovative age-defying treatment that uses a combination of peptides and retinol to visibly reduce the appearance of fine lines and wrinkles and plump the skin.
Plumping Collagen- For dramatic reduction of lines and wrinkles without invasive dermal fillers like Juvederm or Restylane, this is the facial for you. This 90-minute intensive collagen facial treatment will provide deep hydration, increase cellular regeneration, and speed up epidermal renewal to drastically reduce the appearance of lines and wrinkles for younger-looking skin.
Softer, smoother, more radiant, and youthful-looking skin is waiting for you at Adagio For Hair. Schedule a relaxing facial today and allow our experienced estheticians to assess your needs and develop a skincare plan for you to give you the beautiful skin you've been longing for. You will find us at 4356 Town Center Blvd, Suite #114, El Dorado Hills, CA. Give us a call at (916) 939-6604 to schedule your professional facial treatment appointment or book online with our convenient scheduling tool. You can earn points and redeem them for valuable rewards in our exclusive Adagio For Hair loyalty program! Join now to start earning your exciting rewards..