If there was one thing to come out of wearing face masks, it's the realization just how much our lashes and brows contribute to our overall look. Now that we're done with the mask wearing, we can see that perfectly shaped brows and lush, full lashes really do make a difference in giving you a more put-together look while highlighting all your great facial features.
At Adagio For Hair, our makeup experts and eye & brow services can help you cut down on your makeup routine each day while ensuring you look vibrant and ready for the day.
Most of us spend quite a lot of time each morning with mascara, lash curlers, eyeliners, and brow liners to get that perfect look. Thankfully, there are plenty of options that help you save time every day while letting you showcase your beautiful eyes.
Lashes. Most of us weren't born with naturally dark, thick lashes, but that's the look we want to make our eyes look bright and awake and to draw attention to the eyes. Mascara does the trick temporarily, but it's time-consuming to apply and comes with a lot of challenges, like clumps, runs, and having to reapply it throughout the day. Long-lasting solutions like lash extensions, tints, and lifts can give you the look you want without the hassle of that daily routine.
Lash extensions. One of the most effective ways to get dramatic lashes is with extensions, which add a dark, thick lash to each of your natural lashes. Lash extensions are completely customizable because you can choose the look you want – classic, hybrid, or volume, depending on the level of dramatic effect you want. Our classic lashes look natural but stand out enough to get that mascara effect, and our volume lashes give you a bold, dramatic look. Our hybrid lashes are a blend of the two for those who want a look that's somewhere in the middle. Expect your initial lash appointment to take about 2 hours. Natural lashes shed over time as new lashes grow in, so you'll need some touch-ups to keep the full, luscious lashes you want. We recommend appointments for lash fill every 2 to 3 weeks as new lashes grow.
Lash tint. With tinting, your lashes aren't as bold as with extensions, but it gives you darker lashes so you can go without mascara most every day. Tinting uses a safe dye made specifically for the lashes that last about six weeks. You'll wake up every morning with lashes that already look dark and long without the use of mascara at all, and some people even find that eyeliner is no longer needed, except on special occasions. Lash tinting sessions are quick, taking about a half-hour, then you can go on with your day with gorgeous lashes!
Eyelash lift. When lashes are curled up, it makes your eyes appear brighter and more awake, the perfect look to express your smile through your eyes with the face mask on. Using an eyelash curler every morning is time-consuming, but a professional lash lift gets the job done and lasts 4 to 6 weeks!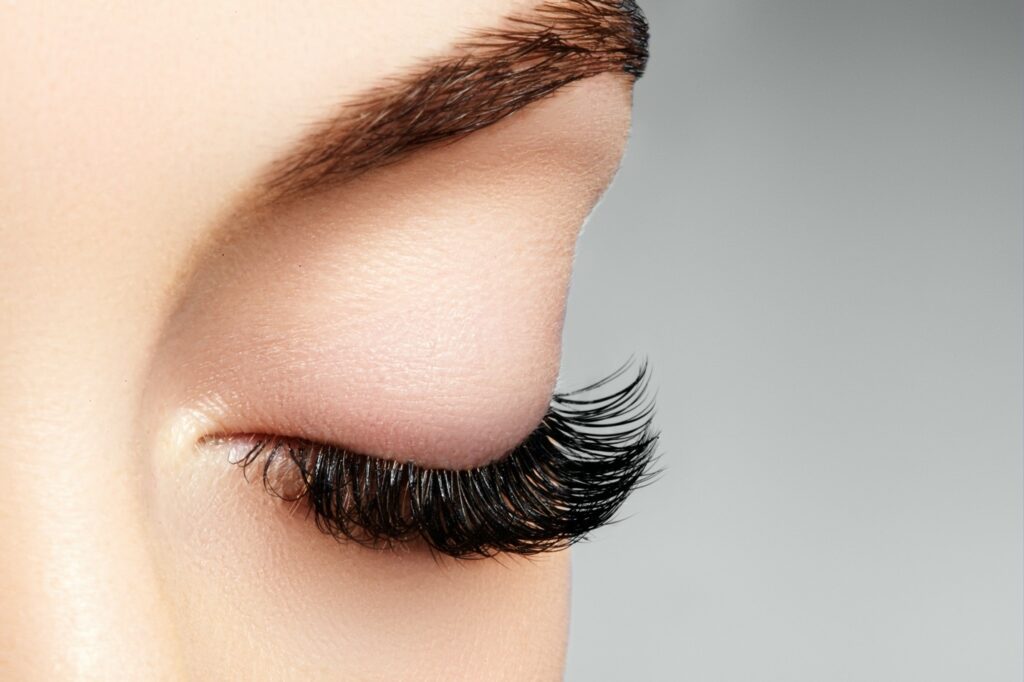 Brows. Your eyebrows are the crowning touch to your eye makeup style, but getting perfect brows is a hassle. Instead, you can relax and get pampered here at Adagio For Hair and emerge with perfect brows that last for weeks.
Brow lamination. Get full, beautiful brows with our exclusive brow lamination service, which includes shaping, tinting, and lamination. Brow lamination realigns the direction of the brow hairs and enhances their shape for a long-lasting full, fluffy look without the daily hassle of tweezing and using brow liner. The service usually takes less than an hour and the results last up to 6 weeks.
Get beautiful eyes that show off your personality at the lash & brow café at Adagio For Hair. Make an appointment today and our expert colorists can give you a blended look with artistic balayage highlights that really set the tone for your autumn style. You can find us at 4356 Town Center Blvd, Suite #114, El Dorado Hills, CA, call us at (916) 939-6604 to schedule your hair color appointment, or book online with our convenient scheduling tool. You can download our mobile app for free from iTunes or Google Play.